 Wolverhampton's Amandeep Uppal 'overwhelmed' at being chosen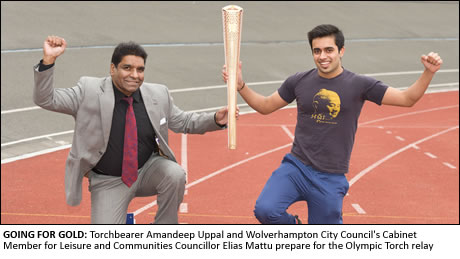 ONE of the chosen few who will carry the symbol of the London 2012 Olympic Games through Wolverhampton has spoken of his pride at being selected for the prestigious role.
Amandeep Uppal is one of the dozens of Torchbearers who will carry the Olympic Flame along the streets of the city on the afternoon of Saturday June 30, 2012.
The 20-year-old, of Ward Road, Wolverhampton, was nominated for the role by university friend Gurveena Johal for his tireless work for charitable and environmental causes and said: "It's a fantastic opportunity and a massive honour for me to represent my home city.
 "It was quite shocking to find out I had been nominated and at first I was a little overwhelmed and really didn't know what to make of it because to play such a prominent role in such a historic event is an absolute privilege.
"But I'm delighted to be taking part and hopefully this allows other young individuals within the community to see me as a role model and in turn inspire them to do something similar and beneficial."
 Amandeep, who is studying Chemistry & Finance with Chinese at Keele University, overcame a confidence-shattering stammer to become a prominent youth member of the British Council.
He now talks to audiences across the country about globalisation and was instrumental in establishing the Youth Renewable Energy Society, an organisation dedicated to spreading knowledge and discussion of renewable energy among young people.
A talented dancer, Amandeep introduced Chinese students and Government officials to the art of Bhangra while on a Culture and Business scholarship at university in Beijing in 2010. And he has put his sporting prowess to good use by raising £8,000 for a number of charities including the British Heart Foundation by completing 16 full and half-marathons despite suffering from ITB, a pain and inflammation of the knee.
For his next challenge, Amandeep is teaming up with Gurveena to raise £10,000 through an event they have called Challenge England. A year in the planning, it will see the pair tackle a 650-mile walk from Penzance to Berwick-upon-Tweed in just 25 days. The plan is to finish on June 27 – giving Amandeep just a day to recover before he takes on his Torchbearing duties.
Amandeep said: "We're hoping to raise as much as we can through Challenge England for slum children in India. We are very fortunate in this country and acquire so many privileges very readily yet there are so many people in the Third World who are suffering and we just want to do what we can to help them."
In her nomination, Gurveena described Amandeep – who is also set to volunteer at the Olympic Stadium during the Games themselves – as an "ideal ambassador for our country".
She went on to say his "humble and selfless nature inspires people to become the change they want to see in the world" and "instils the belief in all who meet him that ordinary people can indeed achieve extraordinary things".
Councillor Elias Mattu, Wolverhampton City Council's Cabinet Member for Leisure and Communities, said: "I am delighted that Amandeep has been chosen for this very important role.
"He is a truly inspiring individual whose selfless work for others sums up the spirit of the Olympic Games perfectly."
The Olympic Flame arrives in the area from Walsall and will be carried through Wolverhampton via the A454 Willenhall Road and the city centre before leaving for Dudley along the A4123 Birmingham New Road.