 Davinder Singh Dhaliwal jailed for his part in £50m alcohol fraud scam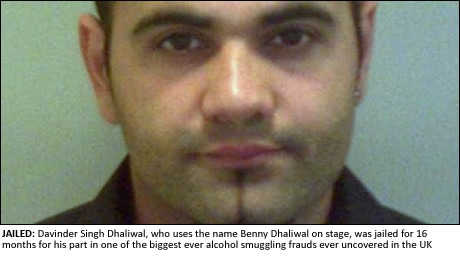 A BHANGRA singer jailed for his part in the UK's biggest ever alcohol fraud scam has told others cheating the system to think twice about their actions.
Davinder Singh Dhaliwal, who uses the name Benny Dhaliwal on stage, was jailed for 16 months last week for his part in one of the biggest ever alcohol smuggling frauds ever uncovered in the UK.
The scam was worth £50m a year in unpaid duty and VAT. He was one of four men who HM Revenue & Customs said used proceeds to spend recklessly on high performance cars and luxury properties throughout Europe.
Dhaliwal, 32, was described as the right-hand man of Gang ringleader Kevin Burrage. Along with two others, Gary Clarke and Michael Turner, the gang bought household branded beer, wine and spirits from bonded warehouses in France and imported it duty free into the UK.
Once safely through customs, the alcohol was illegally diverted to locations around the UK where it was sold on without duty being added.
Dhaliwal operated as Burrage's right hand man, organising the delivery of large quantities of alcohol ready for distribution.
Following a covert surveillance operation, the gang was arrested in a series of dawn raids by HMRC officers in November 2008.
Dhaliwal, who pleaded guilty to cheating the Public Revenue and fraudulent evasion of excise duty, carved out a music career as the case against him was being put together.
In a passionate address to his fans on Facebook he described himself as a "naive adolescent" who got involved "with the wrong company".
He said: "The crime to which I pleaded guilty to was committed almost 7 years ago. "During that time I was a naive adolescent who managed to get himself involved with the wrong company. I, regrettably, agreed to take part in fraudulent activity in excise duty of alcohol. I pleaded guilty to these charges some months ago."
And he urged others cheating the system to think twice about their actions.
"This case had plagued me for the past 5 years," he added.
"I am glad that I have now the opportunity to be frank and honest with my circumstances to the general public.
"If anything, I hope that this message sends out a stern message to all that cheating the system has severe ramifications on ones life. One impulsive decision can change a man's life beyond belief. Please do not make the same mistake I made 7 years ago."
He continued: "I was always taught by my elders that one of the greatest qualities of a man or woman was to be honest and sincere with others. Although my criminal activity completely contradicts this statement, I can hold my head up and say that I truly acknowledge my mistake and have had genuine regret in committing such a crime for the past 7 years.
I do not expect pity or sorrow from any of you as it is just that I am punished for trying to cheat the system. I do, however, hope that at the very least you are able to forgive me and accept my genuine regret."
Other members of the gang were jailed for a total of 19 years and 11 months.
Martin Brown, Assistant Director of Criminal investigation, HM Revenue & Customs said: "This gang was interested in nothing further than lining their own pockets at the expense of honest taxpayers. HMRC will not stand by and let criminals rip off the law abiding public. We are committed to protecting public finances from attacks by organised crime, and the extra £917 million invested in HMRC will help us step up this fight. Crooks like this should beware: HMRC will find you, and you will have your day in court."
Confiscation proceedings are underway.