 Asiyah Jassat awarded £1,000 from inaugural Jesse Jackson Fund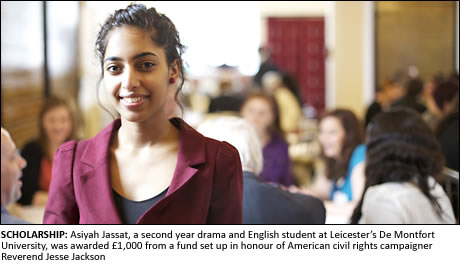 A LEICESTER student has been awarded  £1,000 from a fund set up in honour of American civil rights campaigner Reverend Jesse Jackson.
Asiyah Jassat, a second year drama and English student at Leicester's De Montfort University, was awarded the money as part of the University's Scholarship Fund.
She received the money from the inaugural Jesse Jackson Fund set up in commemoration of his close relationship with DMU.
At a special event in Trinity Chapel she was joined by other recipients from the DMU Vice-Chancellor's Scholarship Fund to explain how the money had transformed their life at University.
Asiyah told how both she and her mother study at DMU and have to use student loans to pay for study and home life.
"Receiving this money means me and my mum do not have to worry any more," the 19-year-old said.
"I feel stress free for the first time. This money can be used to fund our time at university and it will free up other money to pay the bills. It was an honour to be told I had received the money.
"There are so many people in this room who are so happy now. It has made such a big difference to their lives."
Fifty students were given awards of between £1,000 and £2,000 from a pot of £83,000 after writing to explain how the money would help change their lives at DMU.
£60,000 of the fund was donated by best-selling author Lee Child and his wife, while the rest was made up of donations from staff and alumni.
Speakers included the Vice-Chancellor Dominic Shellard, who talked of his experiences of university, and how they inspired him to set up an award. He said: "When I was at university I had to work two jobs to pay my way, and received a small grant of £500, but that small amount really made a difference to me.
"I want to give that same opportunity to our students. We recognise and nurture the talents of our students, and it's important to understand the difference that even a small amount can make to someone's life."