 Former England RL international Ikram Butt spearheading initiative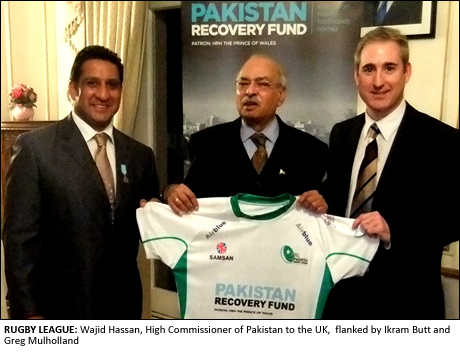 THE establishment of Rugby League in Pakistan and South Asia has moved a step closer.
The move is being spearheaded by former England RL international and British Asian Rugby Association (BARA) founder Ikram Butt who hopes to raise the profile of the game across Pakistan and India.
At a recent meeting at the Pakistan High Commission in London Butt met with officials from the British Asian Trust, diplomats and MP Greg Mulholland, Chair of the All Party Parliamentary Rugby League Group to launch the new Pakistan Rugby jersey as well as throwing his support behind the Prince of Wales' Pakistan Recovery Fund aimed at assisting with rebuilding large parts of the country devastated by the 2010 flooding.
Ikram explained: "We met at the Pakistan High Commission in London and talked about our support of the charity and the development of Pakistan Rugby League. We also discussed other objectives such as bridging the gap between British Pakistanis and Pakistanis living abroad.
"We view the development of Pakistan Rugby League as a catalyst to further develop the sport in India and across the whole of South Asia. There's clearly an appetite for it and we need to ensure that the right initiatives and planning are put in place.
"We have a number of objectives with a second official Pakistan RL international planned for Dubai in the near future. Watch this space!" said Ikram, recently awarded a Doctorate in Sport Science by Leeds Metropolitan University for his pioneering sport development initiatives within the UK and abroad.
Greg Mulholland added: "By focusing on sport, physical activity, education and cultural exchanges we can, together, create a more harmonious society and go some way to combating the dual threats of Islamophobia and fundamentalism."
The High Commissioner of Pakistan to the UK, Wajid Shamsul Hasan lauded the efforts of Ikram and added "We are proud of the efforts of Ikram and will continue to support him in his endeavours of the development of Rugby League in Pakistan."
The new official Pakistan RL playing shirt features the Pakistan Recovery Fund on the chest with the Leeds Rugby Foundation's logo also included on the sleeve.