 Eastenders duo Nina Wadia and Himesh Patel pledge support to charity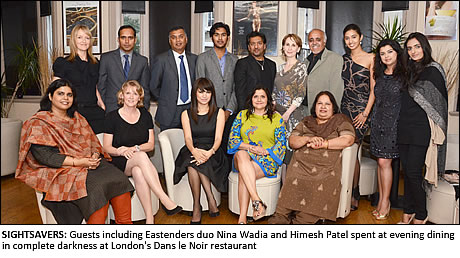 EASTENDERS duo Nina Wadia and Himesh Patel are backing Sightsavers Vision India Appeal – after spending an evening dining in the dark!
The pair, who play mother and son duo Zainab and Tamwar Masood in the BBC soap, spent an 'eye-opening' evening eating in complete darkness at the Dans le Noir restaurant in London.
The meal was organised by international charity Sightsavers to highlight how reliant we all are on our sight, even at the simplest level and for the shortest period of time.
"The experience at Dans le Noir was a real revelation," Himesh reveals.
"I challenge anyone to spend an hour completely at the mercy of your other four senses. It made me realise how important my sight is to me. Losing it for just a short period made me feel exposed and vulnerable, even though I had friends around me. Imagine going through that every day of your life."
Despite India's rapid economic progress in recent years, one third of the world's poorest people live there. It is often those who have the least that go blind due to a lack of treatment, and stay blind due to a lack of surgery. Eye conditions such as cataract, refractive error, glaucoma and childhood blindness are rife.
Sightsavers has been working in India since 1966, and this year celebrates 45 years of positive change having supported around four million cataract surgeries during this period.
But the charity says more needs to be done to tackle the problem with statistics showing that of the 15 million people suffering from blindness in India, 400,000 are children.
Speaking about her involvement with Sightsavers, actress Nina Wadia said: "I'm honoured to become an Ambassador for the charity and hope that I can help spread the word about the amazing work they do in India and across the developing world and in turn give the gift of sight to people who are suffering needlessly.
"It's shocking to think that there are 39 million people in the world who are blind – but 80% of that blindness can be prevented or cured."
Elizabeth Kurian, who oversees the strategic direction of all Sightsavers programmes in India, said: "It is very hard to imagine life without your sight. This evening and this experience gives people a completely unique insight. There is no light, no escape and a complete reliance either on others for help, or your other senses. Ironically it truly opens people's eyes to the plight of 39 million people across the world – of which 15 million are in India."
Nina and Himesh will also be joined in their efforts to raise awareness and funds for Sightsavers and the Vision India Appeal by Bafta nominated Channel 4's The Family and Shay Grewal.
Shay Grewal from the Family adds: "My younger brother suffered from cataracts as a child, and I remember how hard it was for him as he grew up. We had the advantage of a support network and the NHS, but in India there isn't the same support. Without charities like Sightsavers there is little hope for the 400,000 children in India who suffer from some form of blindness."
Nina continues: "A shocking number of people are living with blindness in India today, and for just £15 it's possible to give sight back to someone with cataracts.
"And that's what's so brilliant about the Vision India Appeal. For just a small amount of money we have the opportunity to completely transform someone's life, forever."