 Controversial Cab Company Launches In Birmingham

American-owned cab company Uber, which has courted much controversy in the international arena over the past few years, is set to launch in Birmingham.
The service, which allows customers to book private hire vehicles via the Uber smartphone app, sparked protests in London which brought the city to a standstill. Traditional cabbies in the country's capital objected to the manner in which the web-based taxi firm calculated ride fares, which is similar to the way a taxi meter works and is permissible solely for black cabs to use.
The company has also faced many problems around the world, having found itself banned in India following a female passenger's rape by her Uber taxi driver. The cab company is also unable to provide all of its services in Germany, where some services which failed to comply with German law have been banned.
Despite the controversy surrounding it, the San Francisco-based firm is predicting success in Birmingham, where bosses are confident the cab company's services meet all local licensing rules as well as safety regulations.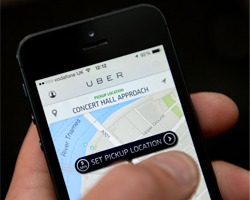 Uber's General Manager for Birmingham, Fouzan Ali, said: "Even before you get into your car, you know who your driver will be.
"You see their name their photograph and their licence number. Before you get into the car you can share your trip details with your friends or family and they can see you on a live map travelling in the car.
"Uber is going to be the safest choice for riders in Birmingham."
The app, which allows passengers to order a lift with the touch of a smartphone button, also provides details of customers' waiting times as well as estimated journey costs. The cashless service, which charges fares directly to a passengers' bank cards, matches up app users with nearby Uber drivers.
The service will initially cover Birmingham and Solihull and has already seen some interest amongst smartphone users with Mr Ali saying at least 20,000 people have launched the app in the last 90 days alone.
Though customers have been warned that peak time fares will be higher than the off peak period, the company claims that their prices are lower than those of traditional black cabs the majority of the time.
Mohammed Taj, of the Birmingham Black Cab Drivers' Association, has said that cab drivers in Birmingham will not protest like their London counterparts, saying: "We are not particularly bothered about Uber coming to Birmingham."
"Other apps have been and gone and from TOA's point of view and from my own personal experience, TOA would welcome competition, providing it's competition on a level playing ground."