Transport chiefs are planning a £150 million development of the Midland Metro network by enhancing up to 50 new battery-powered trams to the taskforce. Extensions to the network are either intended or already under way in Birmingham city centre, Wolverhampton, Dudley and Solihull, connecting passengers to areas such as Edgbaston, the Merry Hill centre and the airport.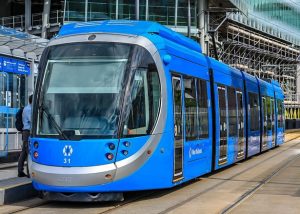 The battery technology removes the need for a complete dependence on overhead electrical wires as is currently the case and allows trams to switch instantly to battery power on sections of the track where wires cannot be built, such as under Five Ways island in Edgbaston.
TfWM is primarily planning to purchase 18 of the new battery-powered trams, with the option to buy a further 32 in future, and is looking for suppliers with tested fleets already in operation elsewhere in the world.
It comes as part of a wider £3.4 billion investment into West Midlands transport over the next decade including new suburban rail lines, cycle routes and motorway improvements, to help with the transport system in Birmingham.
There are 21 'Urbos 3' model trams currently operating on the Midland Metro and the first of those to be retro-fitted with batteries was launched into operation in April – believed to be a UK first.
The other 20 trams will now also be retro-fitted in a rolling programme designed to ensure passenger services remain unaffected.
Coun Roger Lawrence, transport chief from the West Midlands Combined Authority, said: "The West Midlands is leading the way on sustainable public transport in this country.
"We launched the UK's first battery-powered tram earlier this year and now we're adding more to the network.
"We had to wait for the technology to catch up with our ambition so we will retro-fit all our existing trams with batteries too.
"Eventually, this tender could treble the amount of trams operating on our network – potentially increasing our regional fleet from 21 to 71 trams – meaning more services and more stops as we extend the tram network for passengers across the West Midlands."
The contract is due to be awarded in spring 2019 which will be followed by a two-year design and development procedure.
The first of the new trams is estimated to be in action by summer 2021.