 Shakila Karim releases charity song for Help for Heroes charity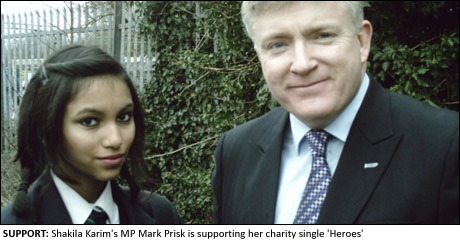 A YOUNG musician who has high hopes of singing at the London 2012 Olympic Games has received encouraging support from her local MP as she sets our to raise money for charity with her latest single.
At just 14 years of age, Shakila Karim, from east London, has already released three songs in the last year and plans to release many more in the future.
However it is her latest song, 'Heroes' she hopes will raise money for the 'Help for Heroes' charity which supports the rehabilitation of injured British service personnel from conflicts such as Iraq and Afghanistan.
The single, which is available to purchase on iTunes, has received backing from the teens local MP Mark Prisk.
He said: "I would like to congratulate Shakila for what she has achieved so far and with all the sales of the single going to such a dedicated charity, I would encourage everyone to support both her and 'Help for Heroes' by downloading the song."
Shakila said the song would help raise much needed funds for the Help for Heroes charity.
"I am so proud of my new song 'Heroes' because it's dedicated to all those wonderful people in the armed forces who are true heroes," Shakila tells The Asian Today.
"I appreciate the terrible things they have to do and I also know some of these people are coming back with horrific injuries. I want to help raise as much money as possible for these amazing people who really need a lot of care and support. Help for Heroes does an outstanding job and I want to do whatever I can to help."
Help support 'Help for Heroes' and Shakila by downloading the song 'Heroes' from iTunes