 Abhishek Bachchan flies into Britain for launch of new film 'Players'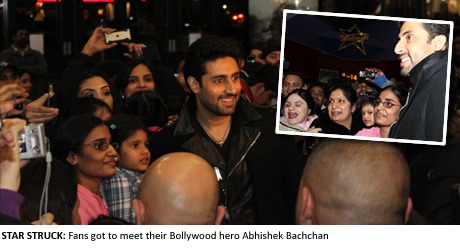 BOLLYWOOD star Abhishek Bachchan was greeted by hundreds of screaming fans as he brought his new film 'Players' to Feltham!
The actor flew into Britain for a special appearance at a packed out Cineworld Feltham where screening for his new film had sold out hours before.
Fans had queued for hours to catch a glimpse of the Bollywood heart throb – and they weren't disappointed as the star mingled with his fans and posed for pictures.
"I love meeting my fans and enjoy speaking to them," Abhishek said. 
"I thank them for always supporting me and hope that they enjoy the new movie."
The actor was also interviewed by BBC and B4U's duo Raj & Pablo.
His new film, 'Players' is a remake of the Hollywood blockbuster The Italian Job.

The film is out now nationwide.