 Veena Malik comes out fighting over reports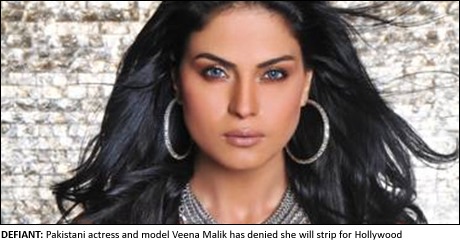 PAKISTANI actress Veena Malik has reacted angrily to reports she is willing to strip if an offer from Hollywood comes her way.
Malik, currently in Dubai, described the reports as "silly", saying she would "never strip for any industry".
The actress hit the headlines recently when she was involved in a public spat with lads mag FHM over a nude cover shoot.
"I would never strip for any industry, these are absolutely silly comments coming from press and media and mostly it upsets me and my fans," Malik said from Dubai.
"I'm an actress and everyone in this industry is doing what the role requires, I will act according to my role needed but this doesn't mean I forget my values."
Malik revealed since the FHM controversy she had been inundated with offers of 'bold' shoots for a number of international magazines – all of which she had declined.
"I have had many offers from international publications which require a bold shoot which we have refused," she revealed.
"I have my principles in work and do that which suits my personality and style."
The actress is looking forward to the release of her debut item song 'Channo' in Nitin Manmohan's 'Gali Gali Chor Hai' which hits TV promos in the next few days.
And she's also looking to make her mark in Bollywood.
"I have three films out this year, plus Swayamvar and other projects."
She will be seen in Zindagi 50/50, Daal Mein Kuch Kaala Hai and Mumbai 125Km later this year.
Veena will also be going to Pakistan to see her family and has made amends with her father who reportedly disowned his daughter following her FHM cover shoot.
''Every father has the right to tell their child off if they think they are wrong, my father is no different but now my dad has cooled down and we are totally fine, I'll be seeing them all in a few weeks, which I am excited about'," she revealed.