 Singer pays tribute to British Muslim Spy in Houses of Commons concert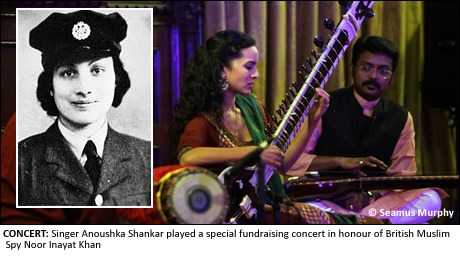 SINGER Anoushka Shankar paid tribute to one of Britain's most heroic Muslim spy's in a special fundraising concert at the Houses of Commons.
The Grammy-Award nominee took part in the benefit concert in honour of British Muslim spy Noor Inayat Khan.
Noor, a descendant of the legendary Tipu Sultan, was a British secret agent in the Second World War. She was infiltrated into France by the Special Operations Executive (SOE) – a secret organisation set up by Winston Churchill.
Armed with only a false passport and a pistol, Noor became the first woman radio operator to be sent to occupied Paris. However, she was betrayed and captured by the Germans. And despite being repeatedly tortured and interrogated, she revealed nothing. She was executed by an SS officer on September 13, 1944 at Dachau Concentration Camp at the age of just 30.
Britain posthumously awarded her the George Cross for her extraordinary bravery, and France honoured her with Criox de Guerre.
Author Shrabani Basu, author of 'Spy Princess, The Life of Noor Inayat Khan', set up the Noor Inayat Khan Memorial Trust in a bid to raise funds to build a memorial for Noor in Gordon Square, London, near the house where she lived.
And singer Anoushka Shankar played her part in raising vital funds for the memorial.
Ms Basu told The Asian Today the singer was eager to be part of the fundraiser when approached by the Memorial Trust.
"Anoushka was very generous with her time," she said.
"She agreed immediately when we asked her to play for a benefit concert.
"Despite being in the middle of a hectic European tour, she played for a fund-raiser for Noor and gave us a magical evening of Indian classical music.
"It was a fantastic concert — intimate and moving.  Everybody loved it and Anoushka and her group were amazing. "
The Memorial Trust raised over £10,000 from the concert and a previous dinner held at the Houses of Commons – and they're closer to raising the money needed to honour Noor in central London.
"Our target is £70,000 as we have downscaled the model to a head and shoulder rather than a statue from the waist up.," Ms Basu said. "Of this we have raised around £60,000 so far, so there is only £10,000 more to raise."
Ms Basu said she hoped to have the memorial in place by the summer.