 Viveak Phull overcomes Swimming phobia to become a Lifeguard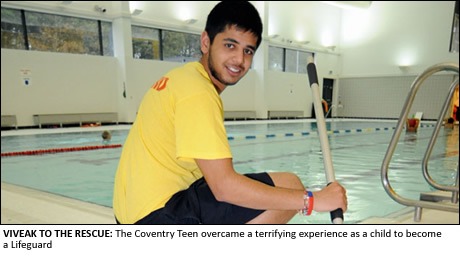 THE experience of nearly drowning would leave many with a life-long aversion to swimming – but not one leisure centre employee.
Viveak Phull, from Stoke in Coventry, recently joined Coventry Sports Foundation full time as a qualified lifeguard after completing his training with the organisation when a terrifying experience at the age of six inspired him to conquer his fear of water.
He said: "I was in India swimming when I got into trouble – I was drowning – but my uncle dived in and saved me.
 "I slowly started to get my courage back and eventually started to teach myself to swim again.
 "I was introduced to Coventry Sports Foundation through Henley College and I was taken on as an apprentice before the Foundation helped me complete the pool helper and then the lifeguard course."
 The 19-year-old's story went full circle when he recently completed his first rescue – saving a child who got into difficulty in the deep end of the swimming pool at the Xcel Leisure Centre, in Mitchell Avenue.
 "I saw there was a child who was struggling in the deep end, so I had to dive into the water and bring them to safety," he said.
 "To go from where I've come from to making my first rescue is a brilliant feeling. It shows if I can do it, then anyone can.
 "I would definitely recommend the course to other people – it really helped to build my confidence and equipped me with the knowledge I needed to feel confident that I could swim in the right way and save lives."
 Viveak has now signed up to become a swimming teacher in order to help others overcome their fears of swimming.
 The NARS (National Rescue Standard) Pool Helpers and Pool Lifeguard courses as well as the Swimming Teachers course are all operated by Coventry Sports Foundation as part of the range of training courses supplied by the organisation.
 Kath Healion, operations manager from Coventry Sports Foundation, said: "We are delighted to have Viveak as part of our team at Coventry Sports Foundation.
 "He has a truly inspirational story and we hope it will help to encourage others to follow in his footsteps.
 "People like Viveak are crucial in ensuring the safety of our pool users and he, as well as all our other lifeguards, do a fantastic job."
The Foundation currently has vacancies for modern apprentices to follow in the footsteps of people like Viveak. The apprenticeship provides people with an opportunity to gain various sports related qualifications and experience in a variety of fields within the leisure industry.
For more information, or a full list of the courses available from Coventry Sports Foundation, visit www.covsf.com or call 02476 856956.