 Singer, songwriter and Model, Manjit part of star-studded cast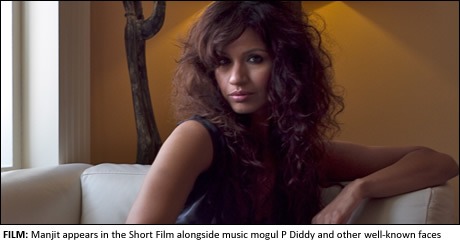 A BIRMINGHAM-born model and singer now living in the States has landed herself a role in a short film by Hip Hop mogul P Diddy.
Talented Manjit was hand picked for the role in the short 3-minute film 'Luck be a Lady' by P Diddy's manager James Cruz.
The short film, which is Diddy's latest commercial for Ciroc Vodka, is a 'Rat Pack' inspired film starring a host of familiar names, including Diddy himself, Matt Goss from the 80s Brit band Bros, and well-known faces from TV shows One Tree Hill, Grey's Anatomy and America's Next Top Model.
Manjit, who grew up in Birmingham before moving to New York, said: "I've known Puff (Diddy) through mutual friends for about 12 years and for the film they wanted someone who was in music to play a DJ instead of just a model. James Cruz (Diddy's Manager) thought of me and Puff agreed so they called me up the night before! Eight hours later I was on a plane from New York to Las Vegas."
The British Asian beauty can be seen in a sparkly gold dress having fun in Vegas alongside a number of well-known of actors, artists and models.
Manjit studied fashion in London before moving to New York to pursue a career in fashion and to further develop her unique sound and music. 
She featured in the first issue of Indian Vogue and has performed for a number of high profile celebrities.
Manjit is currently working on a contemporary soul EP, 'Ocean and a Curse' which is co-produced by guitarist and producer Chris Sholar who has worked with artists such as Q-tip, John Legend, Mariah Carey, Snoop Dogg and Ne-Yo.