 Actress and singer talks to The Asian Today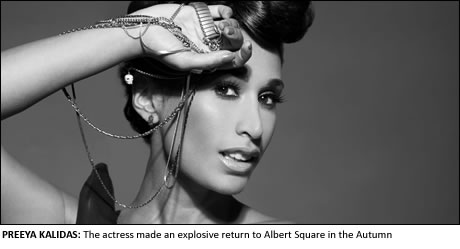 On-screen she survived her husband jilting her for another man, while off-screen a musical career took an unexpected turn after she parted with her record label, but for Preeya Kalidas the future definitely looks rosy.
A return to the small screen in autumn saw Preeya waltz back into Albert Square – much to the delight of the soaps' huge legion of fans. Set to be back amongst a series of explosive storylines this Christmas, Preeya is also gearing up for the release of her EP early next year.
So what better time than to hook up with the actress and singer for a quick chat. Would she spill the beans on all things Eastenders?
Preeya it's been quite a few years for you – from Eastenders to a solo music career and recently back to Eastenders – have you been able to just sit back and reflect on everything you've done? 
I definitely try to take time out to reflect and appreciate the opportunities I have been given particularly as you can get caught up trying to work towards the next thing and the next thing.
You made a dramatic return to the square recently – how did you feel about going back to Eastenders? 
I loved working on the show previously and it's been great going back. Nothings changed and we still have fun and laugh a lot!
It must have been fun hooking up with the Masood's again? 
I love working with them! Everyone has such different personalities but we all share the same sense of humour!
Was there always an option to return when you initially left to pursue your music career?
The door was left open as Amira wasn't killed and she held a little secret that was bound to come out sooner or later as Syed needed to find out about their child.
There was such a huge buzz when your return to Eastenders was confirmed – were you surprised at the reaction? 
I was really surprised as it was nice to know that there has been a lot of love for the character and I definitely love playing her so it's a bonus!
You've become a firm favourite with fans of the soap – we won't be seeing a swift exit anytime soon will we? 
You'll have to wait and see!
How much has being part of Eastenders changed your life? 
The show is the UK's best loved TV programme which is watched by millions each week so it has brought me to a wider audience who most times will approach you even when I'm going to my local newsagent which was something I needed to get used to.
Aside from Eastenders, you're concentrating on your music career. Are you happy with the direction this part of your career is taking? 
Absolutely. I have always loved making music and writing and I've been fortunate to be working with some of the best UK talent.
You left Eastenders to pursue a music career, but then parted with Mercury Records shortly after – did you have any regrets at the time about leaving the soap?
I have absolutely no regrets. I decided to leave the show and got to be part of a dramatic storyline with a fantastic exit and the impact for me coming back has been greater I think than if I had remained in the show previously.
But also I got the chance to tour the country performing the hit record Cross my Heart, work on award winning film Four Lions and work towards a performance at the Asian music awards which I was really grateful to the fans for voting for me to win Best Female.
Did these difficult times make you even more determined to pursue your love of singing? 
I was fortunate that the opportunity to work with Skepta came shortly after all the madness so I continued doing what I love regardless of the fact that I was no longer with Mercury. I made music before I was with the label and am determined to continue making music.
You've collaborated on a number of songs with some amazing UK talent – are there any other artists who you'd like to collaborate with? 
There are so many talented artists I would love to work with including Labyrinth, Imran Khan and Drake. All of us on a record would be amazing!
What's on the horizon for you musically? 
I am currently in between filming, writing and recording which I am hoping to finish soon. I will release an EP for the fans early next year.
Finally, if you could be Eastenders scriptwriter for the day – how would you resolve the Amira, Syed & Christian saga? 
Well after everything Amira's been through I would make sure that she lives happily ever after!