 Recipe for Success for Khalid Sami Khan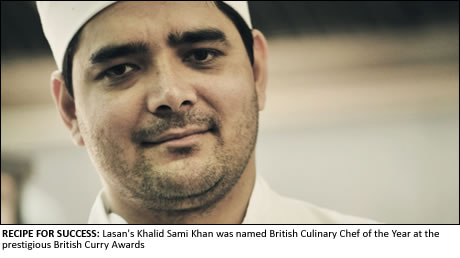 A CHEF from Lasan Restaurant in Birmingham has beaten off competitors from across the UK to be named British Culinary Chef of the Year at the prestigious British Curry Awards.
Lasan's Khalid Sami Khan secured the coveted title, introduced for the first time this year, after cooking a two course dinner for a high profile judging panel including Derek Dyson, Executive Producer at ITN and Steve Myall from the Daily Mirror.
The award comes hot on the heels of Khalid's colleague in the Lasan kitchen, Muraliraj Narashimaraj, winning the UK South Asian Chef competition in October.
The British Curry Awards is the largest event on the curry calendar. Last night's ceremony was held at The Battersea Evolution in London, hosted by TV chef James Martin and attended by over a thousand restaurateurs, MPs and celebrities, including Mary J. Blige, Max Clifford, Charlie Brooker, Konnie Huq, and Boris Johnson, Mayor of London.
Director of the Lasan Group, Jabbar Khan, said: "Having won the British Curry Award for four consecutive years, this year we decided to step to one side and enter one of our talented chefs in to this new category.
"Our chef director Aktar Islam has blazed a trail for Indian cuisine and I'm delighted with both Khalid and Muraliraj's successes, which are testimony to the high quality, delicious food that customers expect from Lasan."
Lasan has won a string of awards for its cuisine, service and contribution to the industry. In addition to winning BBC2's Great British Menu in Spring 2011, Lasan was named Best Local Restaurant by Gordon Ramsay's The F Word in 2010 and featured in Men's Health Magazine's Healthiest Restaurant Awards.
Lasan has been celebrated as a Top 10 Indian Restaurant in the UK by The Times, The Independent and The Guardian, and most recently by MSN Sainsbury's Food and Drink.