 First baby born at new Sandwell Birth Unit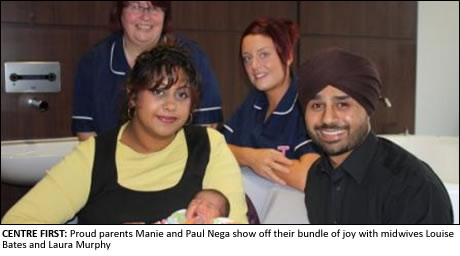 A NEW purpose built midwife-led birth centre in Sandwell has welcomed its first new arrival.
A baby boy, still known as Baby Nega until his first name is chosen, was born in a birth pool at the Halcyon centre in the aptly named Tranquillity Suite.
Weighing in at 6lb 11oz, baby Nega already has two doting older sisters, Ramahia, 5 and Jevikah who is 16 months old.
Delighted Mum, Manie Obbi-Nega, and Dad Paul Nega welcomed their third child, together with midwives Louise Bates and Laura Murphy and maternity support worker Mychelle Taylor.
Mum, Manie, 34, explained she was delighted when she heard of the existence of the Halcyon Centre as she was very keen on a water birth. "My eldest daughter was born in a pool and it was an experience I was keen to repeat with the second.
"Unfortunately a pool was not available when I gave birth to Jevikah at Russells Hall. I heard about Halcyon at an antenatal class and arranged a visit just two days before my baby was born. I just fell in love with the place and the staff who were so warm and welcoming."
The new unit, which is described as being more like a spa-hotel than an NHS birth centre, has three suites, all equipped with the latest birth pools and other equipment and furniture for natural births. 
Manie added: "I would recommend Halcyon to anyone aiming for a natural birth.
"I had visited the Serenity Unit at City Hospital which is also wonderful but it was just a little too far for me to travel from Cradley Heath, so Halcyon was just perfect. "
Mrs Obbi-Nega is a member of the national Childbirth Trust (NCT) and national breastfeeding network and is keen to spread the message to her pregnant friends. She said: "I'm definitely going to try and arrange a tour of the unit for local NCT members, I'm sure once they see it there will be no stopping them."
Midwife, Louise Bates, said:" It was an honour and a privilege to help to deliver the first baby born at Halcyon. This brings to a head the hard work of all the midwifery staff in the Trust and the vision of our consultant midwife Kathryn Gutteridge. The co-operation between the Trust and Sandwell Primary Care Trust (PCT) has produced a great asset for the whole of Sandwell and we look forward to many more births."