 Four and a half years for Rashpal Chana over burns death of toddler Kristiana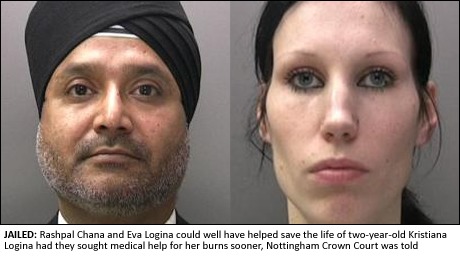 A BIRMINGHAM Magistrate has been sent to prison for his part in the death of a two-year-old girl.
Rashpal Chana, 49, was jailed for four and a half years at Nottingham Crown Court over the death of Kristiana Logina who died in February 2010 from septicaemia brought on by untreated burns.
The toddler's mother, Eva Logina, was jailed for six years.
The duo, both from Smethwick, were found guilty of the manslaughter by gross negligence of Kristiana at their former home, in Harborne, on 15 February 2010.
Ms Logina, aged 25, was also found guilty of an additional charge of child cruelty.
The pair, who had previously been in a relationship, had denied the charges but the jury returned a unanimous guilty verdict this afternoon.
Kristiana died at Birmingham Children's Hospital in February last year, having been admitted more than a week after suffering scald injuries. The cause of death was found to be septicaemia as a result of failing to seek medical treatment after being scalded.
A police investigation was started and 49-year-old Chana, who is a Birmingham magistrate, and Logina were arrested by officers from the Public Protection Unit at Ladywood Police Station in February 2010. They were both charged and the case was sent to court in December 2010.
After the pair were convicted, the judge sentenced Logina to a six-year custodial sentence, whilst Chana will serve four and a half years in prison.
Detective Inspector Bob Sutton, senior investigating officer in the case, said it was "distressing" knowing two-year-old Kristiana could well have been saved had Logina or Chana sought medical help immediately.
He said: "This has been a very lengthy and difficult investigation. A two-year-old girl lost her life in the most tragic circumstances, after suffering complications having been scalded by hot water at the hands of her mother.
"The most distressing thing is that the court heard how Kristiana's life could well have been saved had Logina and Chana sought medical help immediately, however they left it for several days and by then her condition was so severe it ultimately caused her death.
"I hope that the sentences the couple have today received offers some comfort to relatives, whilst also sending a clear message that no one is above the law."