 Huge demand means campaign is a retail winner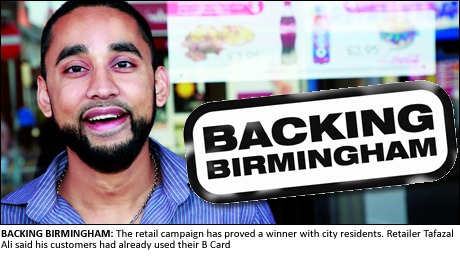 A BIRMINGHAM City Council scheme, funded by the Government to help restore confidence in Birmingham's high streets and promote independent retailers and businesses has proved so popular that it is being extended.
The Backing Birmingham campaign features a free, special card, called the B Card, which gives Birmingham's residents special offers at participating independent businesses. 
Across Birmingham, over 600 businesses are already taking part in the scheme, which was due to finish at the end of October.
Now, due to this initial success, the Council is extending it to continue to support retailers and communities until the end of the year. Extra B Cards and retailer packs are being printed and the Council is calling for even more retailers and residents to get involved and make the most of their B Cards.
Participating retailer Tafazal Ali, who owns The Red Couch, High Street, Erdington said the B Card was the talk of the town.
"We have had some new people come in and use the B Card and people are definitely talking about it and finding out about it," he said.
Cllr, Timothy Huxtable, Cabinet Member for Transport, Environment and Regeneration at Birmingham City Council who launched the campaign said: "The Backing Birmingham campaign and the B Card are all about supporting our local communities and recognizing that they are filled with great places to go and shop. We already have 600 independents involved and would like many more to take part. It is a great opportunity for both shop owners and residents to make the most of the campaign."
Participating stores get free 'Backing Birmingham' signs for their windows, as well as leaflets and posters to use to display their special offer for residents.
Any independent outlet who would like to find out more about the campaign can visit
www.BackingBirmingham.com
or call 0121 472 9009 for their free point of sale kit, while stocks last. There is no charge to take part and retailers / outlets can decide what special offer/s they would like to give to B Card holders.
B cards are available to any resident of Birmingham from
www.BackingBirmingham.com
or by cutting out the card on newspaper advertisements.
You can use your B Card in any outlet displaying a 'Backing Birmingham' sticker or poster and there is a regularly updated list of participating stores at
www.BackingBirmingham.com
.