 Police appeal for information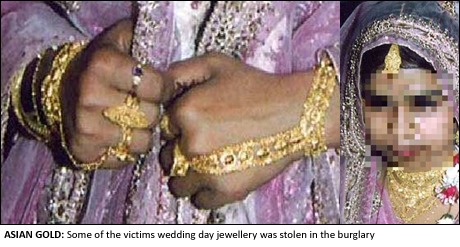 POLICE in Dudley are appealing to jewellery shop owners to be on the lookout after a large quantity of Asian gold was stolen from a house in Halesowen.
The burglary took place at an address in Hillwood Road, Halesowen on Monday 7 November between 5pm and 6:30pm.
A large collection of Asian gold bracelets, necklaces, rings and headwear was stolen from the victim's home.
Detectives said a number of the items stolen were worn by the victim on her wedding day.
DC Karen Trinder, of Dudley CID, said; "The victim is understandably upset, particularly as the jewellery included items she wore on her wedding day."
Offenders forced their way into the house through a ground floor UPVC window.
DC Trinder added; "I am appealing for information, particularly to jewellery shop owners and 'gold for cash' companies who may have been approached by someone wanting to sell Asian jewellery to them.
"I would ask for anyone with information to come forward and contact CID to assist with enquires".
You can contact Dudley CID by dialling our new non emergency contact number 101. Alternatively, if you wish to remain anonymous call Crimestoppers on 0800 555 111.