 Iconic torch to pass through borough on its way to London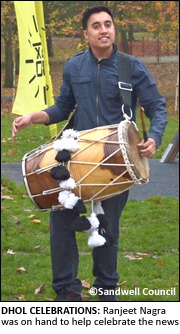 SANDWELL residents danced the Bhangra beat to celebrate news that the Olympic Torch will be coming to the borough in 2012.
Thousands of Sandwell people will get a once-in-a-lifetime chance to see the Olympic Flame carried through the borough next year on its way to the London 2012 Games.
Local people will be able to share in the excitement of the Olympic Torch Relay and cheer on torchbearers as they pass through Oldbury, West Bromwich and Smethwick on Saturday 30 June 2012.
And as news of the route was unveiled Sandwell residents and sport stars celebrated to the beats of a Dhol in Victoria Park!
Dhol drummer Ranjeet Nagra was on hand to provide musical entertainment as pupils from Victoria Park Primary, charity marathon runner Blind Dave Heeley and future Paralympic hopeful Ella Booker partied to the news.
Welcoming today's news, Sandwell Council leader Councillor Darren Cooper said it was a major coup for Sandwell.
He said: "The Olympic Torch Relay coming to Sandwell will be a wonderful occasion for everyone in our community to join together and celebrate the Olympics being in this country.
"This fantastic news is a clear sign from the Olympic Committee that the 2012 Games will benefit places like Sandwell."
Oldbury, West Bromwich and Smethwick are three of over 1,000 villages, towns and cities announced by the London Organising Committee of the Olympic and Paralympic Games (LOCOG) through which the Olympic Flame will pass.