 Qudues Zafar named runner-up in first Youth Agency Youth Worker Awards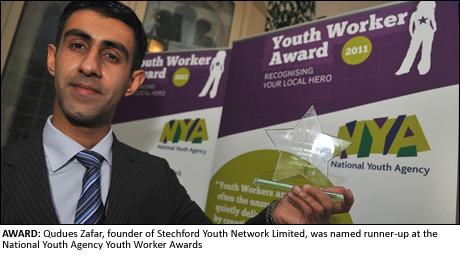 THE founder of a youth organisation based in Stechford, Birmingham has received national recognition for his contribution to the local community after being named as a runner up in first National Youth Agency Youth Worker Awards.
Qudues Zafar, founder of Stechford Youth Network Limited, was presented with an award by National Youth Agency chief executive Fiona Blacke at an event held at the House of Commons and organised by the National Youth Agency as part of Youth Work Week 2011.
Young people and community members nominated Qudues through Facebook and Twitter for his selfless commitment to local young people.
Qudues founded Stechford Youth Network Limited in March 2006 to improve the lives of young people. He volunteered as a youth worker for over two and a half years from the age of 19 and has provided endless opportunities to local young people.
This is also the second award Qudues has received this year, in the spring he was presented with the Children's Champion Award by a national newspaper.
On receiving his Youth Worker award, Qudues said: "It is an honour and privilege to be recognised by the National Youth Agency through this award. I am dedicated to young people and ensuring that they have the very best in life. For me youth work is not a job, it's my passion and I look forward to continuing to bring about positive change for Birmingham."
Before the award presentations, the audience was given and insight into a diverse range of youth work projects, including St John Ambulance's Rise and Aspire programmes and Worcester youth radio Youthcomm's Minifest.
Young people from across England also shared their stories about the transformational difference youth work, and in particular their youth workers, had made to their lives and their communities.
Fiona Blacke, National Youth Agency Chief Executive, said: "Many congratulations to our award winners. Without youth workers there is no youth work, and without youth work many young people will not be given the opportunity to grow, develop and become full members of society.
"The Youth Worker Awards gives us a chance to celebrate and recognise the work of outstanding youth workers."