 Smethwick Bangladeshi Youth Forum becomes Community Connect Foundation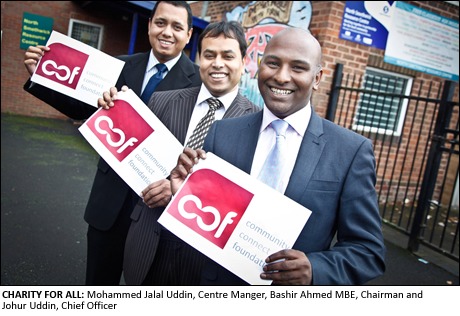 A SANDWELL charity which started out helping the boroughs Bangladeshi community improve their quality of life is set to unveil a new name after other communities began accessing its services.
The Smethwick Bangladeshi Youth Forum was established in 1996 by a nucleus of young people committed to the social and economic development of their community.
For years the charity was a vital source for the boroughs Bangladeshi community in helping thousands of residents improve their quality of life.
With the help and support of managed funding from a variety of sources, the charity has been able to provide quality service provisions to more than 5,000 people. A substantial number of them have gained qualifications and moved on to find employment in the UK.
In recent years the charity has built up a client group comprising more than 50% of people who don't live in the Smethwick area, are not young and are not Bangladeshi.
Bashir Ahmed MBE, Chairman of the charity said the time was right to reflect all communities who turn to the charity for help.
Marking a new chapter for the charity, it will officially change its name to the Community Connect Foundation (CCF) at a special ceremony attended by key stakeholders and civic dignitaries, including guest speaker Councillor Darren Cooper later this month.
Bashir Ahmed MBE, Chairman of CCF, said: "Although we started out predominantly helping the Bangladeshi youth community in Smethwick, we have seen more and more ethnic groups turn to us for support.
"We realised that the SBYF name may have restricted us from helping those that need us most, so the new community focus means we can help more people in Sandwell and across the West Midlands, particularly in Birmingham."
"We are excited to officially unveil our new name and branding as well as share our future plans and vision for CCF."
The launch event will take place at the North Smethwick Resource Centre (NSRC) in Cambridge Road, Smethwick on Tuesday 22 November 2011, from 4pm.