 Shizzio joins forces with rap icon's brother Mopreme Shakur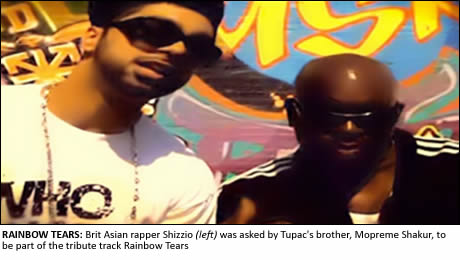 BRIT Asian rapper Shizzio has joined forces with the older brother of Hip-Hop legend Tupac Shakur to record a tribute track on the 15th anniversary of the rappers death.
The East London star features on 'Rainbow Tears' – a track created by Tupac's older brother Mopreme Shakur.
Tupac – regarded by millions as one of the greatest rappers of our generation – was shot and killed in September 1996. Fifteen years on his murder still remains an unsolved mystery.
Speaking about his involvement on the tribute track, Shizzio says: "There is no doubt that Tupac has influenced thousands of people – whether they have become global stars or whether they just love to listen.
"His music and more importantly his lyrics have been such a powerful force in my own choices that I could think of no better way to pay tribute to this amazing man. I was honoured and humbled to have been asked to be part of this tribute." 
The track is supported by a video shot in LA featuring Shizzio, Mopreme, Hollywood star Fatso Fasano and members of the legendary Wu Tang Clan. The video launches with a powerful and emotive clip of Tupac himself talking about his short-lived dreams of success.
Watch the Video Here