 SuperHeavy brings together Super Cool and Super Talented musicians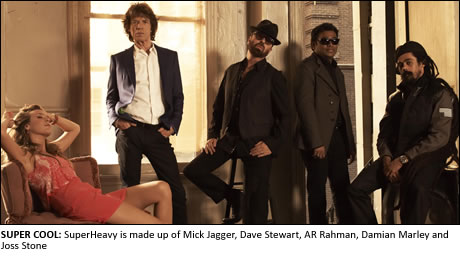 OSCAR winner AR Rahman has admitted he feels like he's in a rock band being part of super group SuperHeavy!
The Oscar winner is one part of five member band SuperHeavy alongside Rolling Stones front man Mick Jagger, Reggae legend Damian Marley, Eurhythmics front man Dave Stewart and Brit singer Joss Stone.
This diverse and eclectic line up who share eleven Grammy Awards between them, have been recording together in various studios around the world, with the majority of the tracks on the project laid down over three weeks in Los Angeles earlier this year.
Their first single 'Miracle Worker' has just been released with a debut album set to be unveiled next month.
Recorded in LA and with a video that received over half a million hits within 36 hours of release, 'Miracle Worker' is a clear indication of the creative vision of this unique collective of world-class musicians.
SuperHeavy came together after Jagger and Stewart considered what a band comprising of musicians from different genres would sound like. 
Jagger explains: "Dave really wanted to make a record with a different group of musicians, in other words, with different backgrounds of music. Instead of everyone being a rock musician, or basically a blues musician, or some other genre, he wanted to get as many genres together that would fit. I said it sounds like a good idea, I never thought it would actually happen."
Stunning singer Joss Stone was the first recruit for the then un-named SuperHeavy. Stewart says Stone was, "an obvious choice for us. She's such an incredible singer and spirit." 
Stewart and Jagger's dream team took further shape when they were inspired to bring Damian Marley into the mix, says Stewart, "We'd always wanted a Jamaican musician because Mick and I are crazy about Jamaica and Jamaican music. 
"We were listening to loads of stuff and suddenly a light bulb went off and we thought about Damian Marley." Jagger had long been a fan of Marley's, fresh from another cross-genre collaboration with American rapper Nas, citing his strength as a lyricist and toaster along with his penchant for experimentation and collaborative spirit. 
Recording in LA meant the band's path crossed with legendary Indian composer A.R. Rahman, in the City of Angels fresh from his Slumdog Millionaire Oscar glory. Jagger explains, "We didn't know what kind of music we'd make, we didn't know if it would be any good, but we hoped we'd have fun." They were thrilled to have Rahman on board,
Stewart says, "He brings so much musical knowledge, amazing musicianship, melody and singing power from a different culture."
Despite their disparate backgrounds, they instantly connected and hit the ground running, writing twenty-two songs in the first six days. Stone was thrilled with the results, "That's what you need, all these opinionated people who have been brilliant in their own field, shove them together and see what comes out. It's really unexpected, it's mind blowing" she enthuses. 
Similarly enthused was Rahman, "The first day I was in a daze thinking, 'What am I doing? What's my role?' and then slowly we started writing with each other, and it was great. It took me way back to my high school days when I was playing in a rock band, but this one was a real one!" 
SuperHeavy fuses the talents of one of the greatest front-men of all time, a two time Academy award winning Indian composer, a soul vocal prodigy, a three time Grammy winning reggae star, and one of the most sought after producers in the world. 'Miracle Worker' is the first track to be released from this explosive and talented collaboration.
The SuperHeavy album will be released in September. Miracle Worker, the first single is released through Universal Music and available to download now.