 Sharn Devan Farrell jailed for 25 years for murder of Jagjit Singh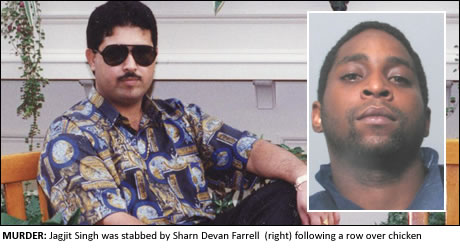 THE wife of a Leicester man stabbed to death at his takeaway after a row over chicken has spoken of her devastation at losing her husband following the conviction of a 28-year-old man.
Sharn Devan Farrell stabbed father of one Jagjit Singh, 43, outside the Sea Salt Fish Bar, on Saffron Lane in November last year following a row over chicken.
Farrell, 28, was jailed for 25 years at Leicester Crown Court for the 'premeditated attack'.
Jagjit's grieving wife Lakbinder Sandhu said Farrell's actions had robbed her family of a "loving husband and father."
"In November 2010, my life was shattered when Jagjit was killed," she said in a statement. "I felt devastated and my whole life was taken away from me. Jagjit was a loving husband and father. He was killed at our own business and this meant that everyday until I could sell the business it was a constant reminder that Jagjit was killed there. I had to sell the business at a loss, which does not bother me, what does is the loss of Jagjit that hits me every day.
"I could go on forever about what effect Jagjit being taken from me early has had but nothing can bring him back or change what has happened. I will now have to live without him for the rest of my life."
The court was told Jagjit had been working at the Sea Salt Fish Bar, on Saffron Lane on the night of November 1st 2010 when Farrell entered the store with a young boy.
An argument ensued between Farrell and Jagjit over the amount of chicken he was served, and the argument spread onto the street.

Farrell left the scene with the child and returned to a house in Clifton Road, where he picked up a knife, before returning to the chip shop, along with the chid.

Once back at the scene Farrell continued the argument with Jagjit and stabbed him in the left side of his shoulder. The knife travelled through his lungs and heart chamber. Farrell then kicked and stamped on the victim, before leaving the scene.

Jagjit was taken to Leicester Royal Infirmary, where he died from his injuries.
Detective Chief Inspector Neil Castle, who led the investigation team, described the killing as "premeditated" saying Farrell showed "intent" by returning to the Sea Salt Fish Bar with a knife.
"This whole incident was witnessed by a young child and the defendant clearly showed intent by returning to get a weapon and then going back to the scene to continue the argument. This was clearly a premeditated attack and the sentence clearly reflects that," he said.
"Jagjit's wife and son have been needlessly robbed of any kind of future with him. Although I know the verdict cannot compensate for what they have been through over the past nine months, and what they continue to go through each day, I hope in some small way it will offer them some closure and help them to move forward.
"I would like to thank Jagjit's family for the help they have given us throughout the investigation. I would also like to thank members of the local community who came forward after the incident to tell us what they had seen. Without their help, the conviction may not have been possible."