 Duke and Duchess of Cambridge visit riot-hit Birmingham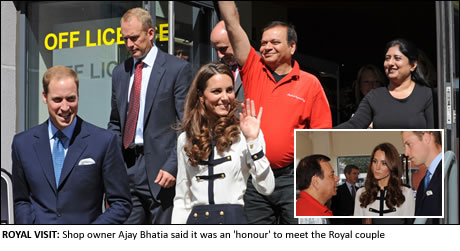 A SHOP owner who was left with thousands of pounds worth of damage after looters ransacked his shop during nights of rioting in Birmingham has spoken of his shock after he was visited by the Duke and Duchess of Cambridge.
Ajay Bhatia, 52, was one of many business owners hit hard by the recent disorder.
Looters targeted his Machan Express shop and café in Birmingham city centre making off with more than £15,000 worth of stock.
CCTV caught the moment when a gang of youths – including a 10-year-old boy – smashed through the front door of the newsagent and ransacked the shop.
Despite the damage Mr Bhatia opened the next day, and relayed his experience to the Royal couple during their visit to the city.
He said: "I am amazed they chose my shop. It was a surprise. I was just told that some VIPs were coming. It's like a dream. It was a great honour to meet them."
During their visit to Birmingham the Royal couple also met with the families of three men who were tragically killed as they protected businesses from looters.
Haroon Jahan, 21, and brothers Shazad Ali, 30 and Abdul Musavir, 31, were laid to rest last Thursday following an open-air prayer event which was attended by over 20,000 people in Birmingham.