 Hockey film is star's first Hollywood project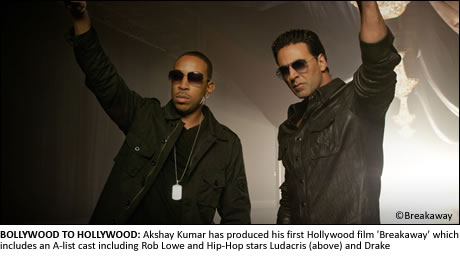 Here's a first look at Akshay Kumar's break away from Bollywood!
Not content with being Bollywood's biggest box office star, Akshay has set his sights outside the Indian film industry with his first Hollywood film 'Breakaway.'
And in keeping up with his trend of working with some of the biggest music stars in the world Akshay has teamed up with Hip-Hop star Ludacris for a song for the film!
Akshay makes a cameo appearance in the film he's produced which is set to hit our screens at the end of the month.
The film stars a host of Hollywood A-listers including heartthrob Rob Lowe and actress Camille Belle (The Lost World: Jurassic Park). Canadian comedian Russell Peters also makes an appearance in the film as does Bollywood veteran Anupam Kher and American Hip-Hop stars Drake and Ludacris.
The film is set in Canada and follows the story of Rajeev Singh – played by newcomer Vijay Virmani – whose dreams of playing Hockey are at odds with the cultural expectations of his family.
Director Robert Lieberman said newcomer Vijay impressed him more than the likes of Rob Lowe and Anupam Kher.
He said: "Working with the likes of Akshay Kumar, Rob Lowe and Anupam Kher (Bend it like Beckham) represented a thrill of its own but the true joy and a sense of accomplishment was guiding newcomer Vijay Virmani to his world class performance. I truly believe that audiences will fall in love with him and embrace him as the emerging star he is."
Watch out for an interview with Akshay about his new Hollywood venture coming soon to www.theasiantoday.com!