 Salman Khan and Kareena Kapoor aim to thrill in Eid blockbuster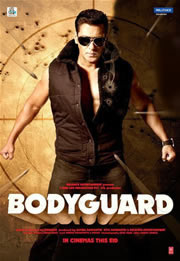 Film: Bodyguard
Director: Siddique
Cast: Salman Khan and Kareena Kapoor
Salman Khan is back this month as Lovely Singh, a bodyguard who takes great pride in his profession.
Lovely is immensely sought after due to his punctuality and perfection in getting the job done.
So his new assignment is to guard college student Divya, the daughter of a business tycoon.
By tracking her every movement even on the college campus, Lovely ends up rubbing her the wrong way due to his over-protective nature.
He soon becomes Divya's major obstacle in life. So she devises a plan trapping him into a fake love affair.
Lovely proves to be a tough nut to crack but when she succeeds, he transforms into a different person.
But Divya's regained freedom is short lived when life takes an unexpected turn. She finds herself trapped in a dilemma that she is unable to resolve!
Bodyguard proves to be an all out masala flick full of innocence, mischief, love and power which unfolds onto our screens this Eid festival.
Item numbers seem to be a norm in films these days. So audiences will be treated to yet another lavish song sequence performed by 'Sheila Ki Jawaani' girl Katrina Kaif. She will be gyrating to 'Aaya Re Aaya Bodyguard' alongside Salman Khan forming part of the opening credits of the film.
Mahesh Manjrekar has proved to be Salman's lucky mascot and so he has been roped together with Shatrughan Sinha, Aditya Pancholi, Asrani and Raj Babbar.
With Salman's previous Eid releases Dabangg and Wanted proving to be blockbusters, Bodyguard is expected to surpass box office figures with a mid-week release from Wednesday 31st August.
So here's wishing for a bumper Eid opening for Bodyguard!