 Birmingham duo caught snmuggling heroin in container of red chilli powder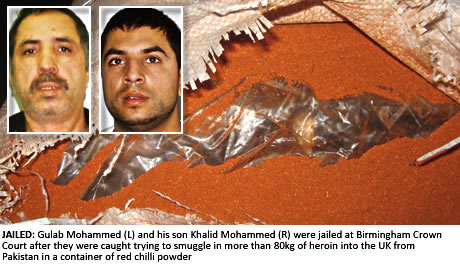 A FATHER and son from Birmingham found their drugs haul to hot to handle after being caught smuggling almost 80kg of the drug into the UK in a container of chilli powder.
Gulab Mohammed, 51, and his 29-year-old son Khalid Mohammed had attempted to bypass stringent security checks at Felixtowe by disguising the drugs amongst 600 sacks of red chilli powder in a container shipped from Pakistan in November 2010.
But the elaborate plan was fumbled when officers from UK Border Agency officers noticed more than 18 packages of heroin hidden amongst the chilli powder.
Gulab Mohammed was jailed for 21 years for his part in the smuggling plot, while his son Khalid Mohammed was sentenced to 19 years.
An investigation by the Serious Organised Crime Agency (SOCA) showed that the Mohammeds had used a shipping agency to transport the heroin from Pakistan to the UK in November 2010.
On its arrival at Felixtowe on 3 November 2010, the container was scanned by UK Border Agency officers and found to contain 600 20kg sacks of red chilli powder. Twelve beige coloured packages were found in one of the sacks near the rear of the container, and when tested, the contents of these were found to be heroin. Six further sacks in the final row of the container also contained quantities of the drug.
SOCA officers substituted the heroin with a safe substance and then sent the consignment, driven by an undercover SOCA officer, to the delivery address, Sewon Enterprise UK Ltd, Bristol Road South in Birmingham. On his arrival he was met by the Mohammeds who asked him to take the container on to an industrial unit in Whitchurch, Shropshire. After arriving at the unit, the container was subsequently unloaded and the father and son arrested by SOCA officers.
SOCA's Trevor Symes said: "Career criminals like Gulab and Khalid Mohammad look for ingenious ways to traffic drugs. They are determined, but so are we. SOCA's together with our international and national partners will ensure criminals who traffic drugs will face justice."
Brian Hill, UK Border Agency Assistant Director at Felixstowe, said: "This was the biggest single seizure of heroin made in the UK last year. It was attempted drug smuggling on an industrial scale. The men involved stood to make huge profits from their criminal enterprise, but thanks to the efforts of our officers at Felixstowe and our partners at SOCA they are instead facing a long stay behind bars.
 "Drug smuggling is a vile business that exploits the misery of others. Heroin destroys lives and it is right that there are heavy penalties for those involved in the trade. The message is clear – if you try to smuggle drugs into the UK we will catch you and bring you to justice."