 Award-winning Indian restaurant serves up dishes for Bollywood cast and crew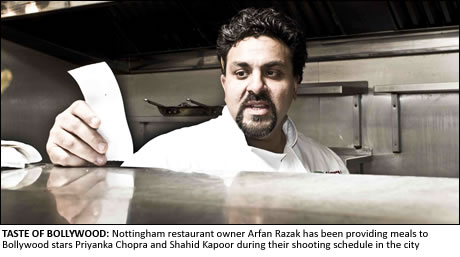 BOLLYWOOD stars Shahid Kapoor and Priyanka Chopra are being treated to the taste of Nottingham – thanks to an award winning curry house in the city.
Indian restaurant the Curry Lounge has started cooking for the cast and crew of a new Bollywood blockbuster film being made in the UK.
The restaurant, which was recently voted the best Indian venue in the East Midlands at the English Curry Awards, has been chosen to provide three meals a day to the stars and production team of Teri Meri Kahani as they travel around for three weeks during their shoot in and around Nottingham and Stratford-upon-Avon.
"A lot of businesses in Nottingham told the location managers that we could provide the best Indian food for the team," said owner Arfan Razak, better known as Raz.
"They sent a member of the production to the restaurant under cover to try out our food, and apparently he loved it."
Kunal Kohli, director and producer of Teri Meri Kahani, a romance starring Shahid Kapoor and Priyanka Chopra, wanted a high-calibre Indian chef to make authentic home-cooked meals.
A large proportion of the production team of the film, which is set to be a major Bollywood release, has come over from India to work on the film. They are being treated to Raz's food to make the experience feel a little more like home.
"Shahid Kapoor and Priyanka Chopra are big stars in Bollywood, and it is great to cook for them and everyone involved in the film," added Raz. "Everyone has been eating everything so far."