 Children raise over £400 for PC Ash Lorgat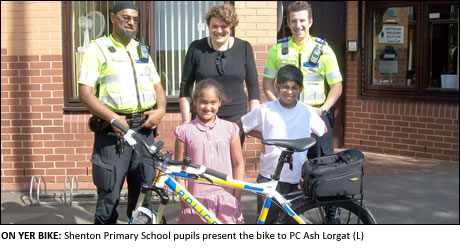 PUPILS from a Leicester school have presented their local police officer with a bicycle on which he will perform police patrols. 
The children of Shenton Primary School raised a total of £444.00 through a number of fundraising activities to buy a mountain bike for PC Ash Lorgat of Keyham Lane local policing unit. 
The 405 pupils, aged between 3 and 11years, raised the money by selling cakes at their Rain Forest café, which is located on the school premises, as well as having non-uniform days when pupils paid £1 each for attending school out of uniform. 
PC Ash Lorgat said: "I'm very grateful to the pupils and staff at Shenton Primary School for their generosity. The bike will help me patrol more efficiently, and I'll keep in touch with regular school visits." 
Helen Thurston, a teacher at the school added: "Since January 2010 we have been working to develop the relationship between students and the local Police beat team. Our fundraising to buy PC Lorgat a mountain bike has built on that good work, and further enhanced our relationship. The children now have a sense of partnership with the Police, which I think is very good."