 Gold Medallist visits Naaser Butt,14, after London 2012 mascot competition win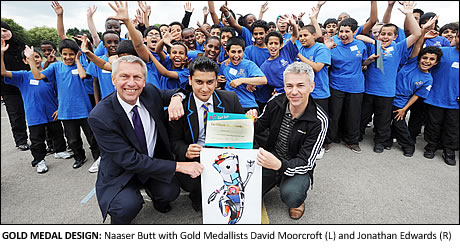 BIRMINGHAM student Naaser Butt got his own personal taste of the Olympics after receiving a surprise visit from Gold Medallist Jonathan Edwards!
Naaser, from St Albans Academy in Highgate, won the nationwide London 2012 education programme design competition after designing a version of the London 2012 Olympic mascot Wenlock which he felt represented the West Midlands.
And triple jumper Jonathan Edwards, Deputy Chair of the London 2012 organising committee, helped the 14-year-old celebrate his win with a surprise visit to the youngsters school to present him with a certificate and mounted copy of his design.
Naaser has already worked with a top London design company to develop his design – which will be made into an official version of the Wenlock as well as a London 2012 pin badge.
Speaking about his winning design, Naaser said: "In my design Wenlock is decorated in bright colours to represent that Birmingham is a colourful and attractive city to come and visit for any occasion.
"But if we look closely, he also has bolts and plates on him, this is because Birmingham was the 1st engineering city in the U.K, so he has plates to represent that and also has some technology inside him such as night vision, thermal imaging, big lights and a brain to move like us and develop moves for himself, when he wants to move, the plates are heated so that they can curve."
Naaser beat more then 2,500 entries to the top prize. At the finals in London the teenager pitched his design to a judging panel which included Jonathan Edwards, Paralympic wheelchair basketball player Ade Adepitan and London 2012 Head of Education, Nick Fuller.
After being announced as winner he was whisked to London where he worked with a top London design agency developing his design into a 3D animated mascot graphic which will be available to buy later this year.
Sebastian Coe, Chair of the London 2012 organising committee, praised Naaser for his design.
"I'm delighted that Naaser's customisation, which reflects what the West Midlands means to him, will be used as an official version of Wenlock," he said.
"This competition not only encouraged school children to think about what their community or region means to them but it also showed how young people across the UK can get involved and play their part in London 2012.
"The designs of the mascots we've received have all been of a high quality and I hope the competition has inspired and helped develop the designers of the future."