 The Asian Today talks to British Number 1 Rajiv Ouseph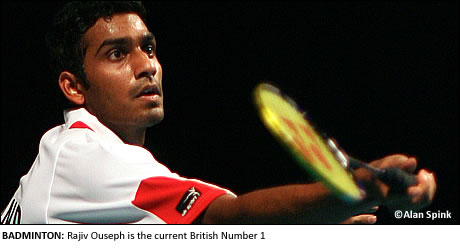 BRITISH Badminton Number 1 Rajiv Ouseph is looking ahead to what he admits is the biggest tournament in his career – the London 2012 Olympics.
But this talented youngster is not letting himself get too pre-occupied with the world's biggest sporting tournament. With qualifying for the Olympics ending in just under a year, Rajiv is working hard to push himself up the world rankings.
Here he tells The Asian Today how he got involved in the sport, the highs and lows of Badminton, and why 'home' support will be the boost he needs come the Summer of 2012.
Rajiv what attracted you to Badminton?
When I was young, my Dad first got me involved in playing badminton. He took me with him to a couple of clubs and I went to the All England when I was ten. I became really interested in badminton from there really. I started playing a few junior tournaments and found myself getting good results which spurred my interest on a lot. 
What age did playing Badminton turn from being a hobby to something you wanted to pursue professionally?
When I was about fifteen or sixteen I made the real transition. That's around the time you have to decide what to study at school and what you want to pursue in life. I discussed options with my parents about study and a career in badminton. 
How important was the support of your parents as a youngster in pursuing your dream?
My parents used to take me to many tournaments when I was young as well as to every training session. They helped me choose a sensible option which was to finish studying for my A-Levels and fit in badminton around it. After my A Levels they agreed I could move to badminton full time. 
You're current British Number 1 – how much hard work has gone into getting to this position?
It's been hard. I always believed I had the talent to do well but it's always a question of making sure you work hard in training to reach the goals you want. When I was younger I thought I had an opportunity to be British Number one. I had good coaches then I was young which helps as well as support from players. After a couple of years of hard work I won the Nationals. 
What would you rate as your best achievement to date?
I think my US Open win was my best achievement, especially as I lost in Canada the week before in quite an early round and I was even thinking of pulling out of the US Open. After a few rounds, I seemed to find my game and win the tournament which was a great success for me.
What's the best thing about being a badminton player?
The travel aspect is probably the best thing. We get to travel all around the world. For instance I came back from Thailand, Singapore and Indonesia last week and I'm off to USA at the end of this week. They're all pretty good places so I'm quite lucky that I get to see so much of the world as part of my job. 
And the worst?
On the flipside of the last question, the worst aspect is probably missing families and friends and the things that go with that like birthdays and other special occasions. Also some of the long haul flights get a little boring sometimes. 
You were brand ambassador for the British Asian Sports Awards earlier this year – how big of an honour was this?
It was great. It was the first time I had been to the event this year and it was very well organized and presented. There were a lot of Asian stars there and I thought it was great for me to be involves in that. Hopefully that will help increase my profile and badminton's as well. 
The Olympics next year are in your hometown of London – would you say this is the most important tournament of your career to date?
It definitely will be. It's a career defining event if you play well. Obviously it's in the back of everyone's mind to do well and everything we are currently doing is gearing towards the Olympics. So it's definitely my most important tournament to date and with it being on London it makes the event even more special because we know we will have more home support from our country. 
How are your preparations going for the Olympics?
At the moment they are going well. We have to individually qualify for the Olympics so I need to make sure my rankings are at a certain level which will put me in the top 16 in the world by the end of qualifying year. This is a really hard thing to achieve as competition from other players is really tough at the moment. The qualifying period finishes in April 2012 so there is still a long way to go and many tournaments to play in. I just have to make sure I keep training hard to qualify.
Rajiv will be involved in

The Yonex BWF Badminton World Championships 2011 held at Wembley Arena from the 8th to the 14th August. Tickets are available from

www.badminton2011.com