 Oldbury Chippy gets business support from Sandwell Council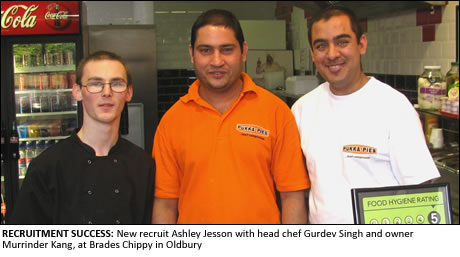 FOUR Oldbury people have found jobs at a new fish and chip shop, thanks to help from Sandwell Council.
The owner of newly opened Brades Chippy in Brades Road, Murrinder Kang, wanted to open a shop in Sandwell and turned to the council's Think Local Recruitment Team for help to find staff.
The Think Local team worked with Oldbury Jobcentre to find great local candidates who were the best for the job.
Think Local also helped Murrinder to select suitable candidates and even offered him somewhere to carry out the interviews.
Sandwell Council's cabinet member for jobs and economy Cllr Ian Jones said: "Mr Kang interviewed a large number of quality candidates thanks to the help of the Think Local Team. He was able to offer employment to four people, who all live in Oldbury.
"Think Local is continuing to work closely with Mr Kang and his new recruits. We wish him all the best for his business."
Any Sandwell business bosses interested in finding out more about the Think Local service should call 0121 569 3074.