 Muslim, Jewish, and Hindu stars unite for concert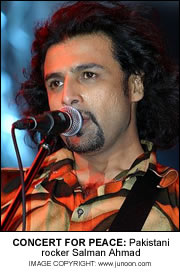 LEADING musicians from around the world will collaborate for the first time this week in a series of peace concerts in India.
The five-day Coexist Concerts for Peace, which will take place at Diggi Palace in Jaipur, will use the recent conflict in Gaza and last years Mumbai terrorist attacks as a backdrop in calling for peace.
Among the star performers expected at the event are Pakistani Muslim rocker Salman Ahmad, Indian Hindu tabla master Samir Chatterjee, Jewish DJ Cheb I Sabbah and Israeli singer Shye Ben-Tzur.
The concerts are being supported by the Coexist Foundation, a charity established in 2006 with the aim of promoting better understanding between Jews, Christians and Muslims.
James Kidner, director of The Coexist Foundation said: 'The concerts are a timely reminder that faith, like music, can be an instrument of peace. For world class musicians, people of different faiths, to collaborate in such a way, sends out a harmonic example of peaceful coexistence between people of faith."
Writer and historian William Dalrymple said the recent Mumbai terror attacks have meant the interfaith dialogue the concerts seek to foster is particularly important
"The concerts aim to unite some of the most bloody and dangerous divisions in the world," he said.