 Talented 14-year-old tipped for racing stardom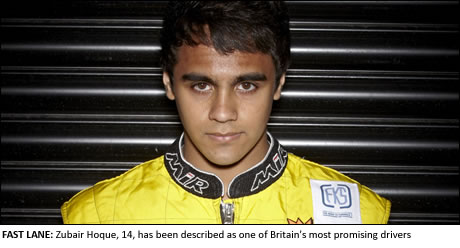 MANCHESTER racer Zubair Hoque is hoping to emulate Formula 1 champion Sebastian Vettel – by becoming KF3 Karting Champion.
The talented 14-year-old is already a regular on the racing circuit and has been described as the most promising young racing driver in Britain today.
Currently competing at national level in Super 1 British Championship and Formula KartStars karting championships, Zubair is setting his sights further and hopes a 2012 drive in the KF3 karting class – the premier European karting competition for aspiring 13 to 16 year old drivers – will be a springboard to the fastest race on earth – Formula 1.
Current Formula 1 champion Sebastian Vettel won the KF3 karting class in 2001 – but it's another Formula 1 star who Zubair looks to for inspiration.
"I take a lot of inspiration from Lewis Hamilton because he started out from a similar starting point to myself," Zubair says.
"He taught me that you have to graft to get where you want to be. When things haven't gone his way he goes back to the pits and analyses every aspect of the car. From him I learnt that there is always something more you can do and it is that attitude that separates the good drivers from the great drivers.
"Like Lewis, I haven't started out with a big money backer but I am determined to get to the top of my sport like he did. It's also my dream to one day race for Mclaren as they are consistently at the top of the sport but I'm confident I can prove myself whatever car I'm in."
Supported and encouraged by his father Mashukul, Zubair first developed an interest for motor racing as a 5 year old. His passion is and always has been Formula 1 but he reveals he'd literally watch anything from Australian touring cars to American Indy Cars. He read motorsport magazines, books and internet articles but it was when he first got behind the wheel that his interest snowballed.
Still only 14, Zubair began his racing career at the Daytona Manchester karting track where, as a fresh faced 8-year-old, he was spotted by Daytona management during arrive and drive sessions.
He was quickly fast-tracked to junior race schools and progressed from novice to intermediate and then advanced levels, despite racing against, and beating many older and more experienced drivers.
Daytona Manchester general manager, Nick Hughes, says: "From a young age Zubair has demonstrated an unwavering willingness to learn and closely analyse his performances. He exudes all the qualities needed to succeed as a professional driver – dedication, determination, personality and, of course, the confidence to succeed. He is the most talented junior to pass through our doors."
In 2008 Zubair obtained his National A outdoor karting license -and in the three years since he's smashed lap records, competed in 13 races all over the UK and Europe and even helped his school Altrincham Grammar School take the British School Karting Championship beating 450 teams competing nationally.
Earlier this year Zubair was invited to attend the BMW Motorsport facility in Valencia, Spain to receive coaching from BMW Formula Motorsport division's top instructors.
This was a fabulous opportunity for Zubair as many famous drivers, including the current Formula One world champion, Sebastian Vettel, learnt their trade at the very same place.
It's no wonder then how motorsport insiders are tipping Zubair as one for the future.
But what does the youngster believe he has that makes him stand out from the competition?
"What makes me stand out is the way I analyse race data, analyse competitors' performances and my tranquillity," Zubair says.
"If something hasn't worked I don't get angry. I think about what went wrong and how it can be improved as I don't like leaving things to chance. Persistence and practice pay dividends. This is how I remain confident in myself, my team and in my future success."