 Saiman Miahreveals inspiration for official London 2012 Olympic coin design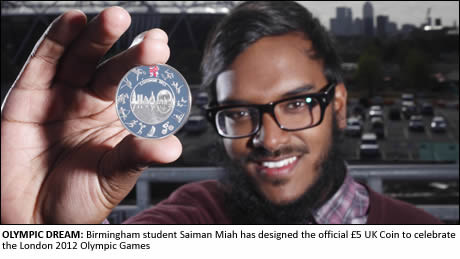 A LOCAL architecture student from Moseley in South Birmingham has had the honour of designing the official UK Coin to celebrate the London 2012 Olympic and Paralympic Games. 
Saiman Miah won a prestigious competition to create the design for the official London 2012 Olympic coin – which will soon be in the hands of Games enthusiasts around the world, ahead of next summer's Games.
Since the Helsinki summer Olympic Games in 1952 it has been tradition for commemorative coins to be struck in celebration of the Games. 
Now 24-year-old Saiman Miah joins the artistic elite by creating the new £5 coin design which will be a permanent and much-treasured memento of London 2012.
Inspired by his love architecture, Saiman's design for the official London 2012 Olympic coin captures a snapshot of the London skyline including the London Eye, Big Ben, Westminster Abbey and St Paul's cathedral; which act as a backdrop for the iconic River Thames.
"As an architecture student I wanted to include a detailed impression of London's iconic skyline on my design," says Saiman.
"The pictograms of Olympic athletes placed around the edge is like a clock face," he explains, "and a reference to another London icon, Big Ben. Winning the Olympic coin competition is a dream come true."
In previous years the official UK coins have been designed by a renowned artist or sculptor – Saiman's design was selected following a Royal Mint competition for art and design students attending higher education colleges and universities across the UK. 
Currently studying for his Masters degree at the Birmingham School of Architecture, Saiman first became interested in art during his secondary school education. 
After completing his Art Foundation course he chose to pursue his passion for architecture.
As well as the honour of designing the official coin Saiman also receives £5,000 prize money.
The winning designer of the official Paralympic Coin, Pippa Sanderson, recently graduated with a First Class Honours Degree in Graphic and Media Design at Hereford College of Arts.
The £5 coin, which is legal UK tender, will go on sale this month and is expected to be collected by thousands of Games enthusiasts around the world.