 Driver Wali Khan prosecuted over refusal to take guide dog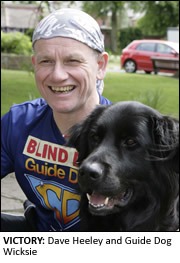 CHARITY marathon hero 'Blind Dave' Heeley has won a landmark legal victory after his guide dog Wicksie was barred from a taxi.
The offence – brought to court in the West Midlands with the help of Sandwell Council – happened within a week of the Equalities Act coming into force last year, and is thought to be the first of its kind prosecuted under the new legislation.
The council's taxi licensing department took taxi driver 28-year-old Wali Khan to court
Speaking after the case, 53-year-old Dave, of West Bromwich, said: "I think it was important to take this case to court. It is a victory for all other blind, deaf and physically disabled people.
Warley magistrates heard that Dave had ordered a taxi to collect him from Great Bridge Library, Tipton, on 7 October 2010.
Khan broke the Equalities Act because he wouldn't let Dave's guide dog Wicksie on board.
The court heard the driver had said "No dogs mate, no dogs in the car", even though Dave and a library worker told him Wicksie was a trained guide dog. Wicksie was also wearing a harness and fluorescent jacket.
Khan, of Lewisham Road, Smethwick, pleaded guilty to refusing to carry a guide dog in a taxi under the Equalities Act, which came into force on 1 October 2010. He was ordered to pay £50 in compensation, a £100 fine and £500 in court costs.
In interview, Khan said he was allergic to dogs and was scared of them after being attacked by a dog when he was 12.
He said he had been a private hire driver for about two years and accepted he did not have a medical exemption certificate.
Khan said he had offered to take Dave once he was told by the taxi firm base that Dave was telling the truth and that Wicksie was a guide dog.