 Abdo Radman and son, Raad, first tenants to move into new home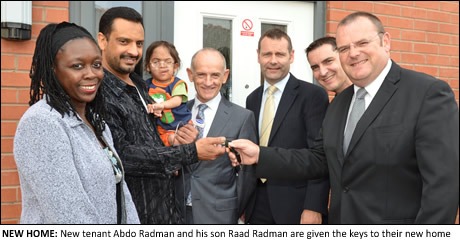 A BIRMINGHAM father has been handed the keys to a brand new home – thanks to Sandwell Council.
Abdo Radman and young son Raad are the first tenants to move into newly built council home built in Sandwell for several years.
The 12 houses and 16 two-bedroom apartments are on the site of the former Bearwood House flats in Bearwood Road, Smethwick.
The £2.75 million project has been built for Sandwell Council by Lovell, and part-funded to the tune of £1.37 million by the Homes and Communities Agency (HCA).
Mr Radman's new home was built to specific disability standards to help meet the needs of his disabled son, Raad.
"Our home is really nice and all the people who have helped us are lovely and friendly," he said.
"We're very happy here because our home has space for my son's electric wheelchair."
Sandwell Council leader, Councillor Darren Cooper, said it was great to see people moving into new council homes.
"These are the first new council homes to be built in Sandwell for some years and I'm really pleased to see people now moving in," he said.
"It's also good to work with Sandwell residents like Mr Radman to meet their needs. I hope everyone living there is really happy in their new home."
A second development of new council homes at Raglan Road, Smethwick, is due for completion in the Autumn.