 Ex-Liverpool ace Robbie Fowler joins Thai Champions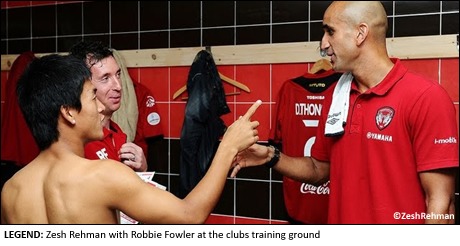 BRITISH Asian footballer Zesh Rehman has welcomed a familiar face to Muang thong United – ex-Liverpool ace Robbie Fowler.
Birmingham-born Zesh was pictured with Fowler, 39, at the clubs training ground following the former Liverpool man's move to the Thai champions from Australian's A-League.
"It's great news for Muang thong United and Thai football that we have signed former Liverpool legend Robbie Fowler," Zesh said.
"His goalscoring record and pedigree speaks for itself. It was warming to see him get a wonderful welcome from the home fans. I'm sure he will prove to be a great asset for us.
"We are looking forward to working with him and hopefully claiming some silverware at the end of the season."
Zesh moved to Thailand in December last year following a successful spell at Bradford City.
The club are currently sitting third in the Thai Premier League.