 Lancashire club to tour India in first for Premiership Club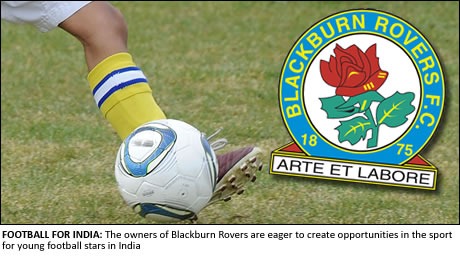 BUDDING young footballers from India are being offered the chance to train at Premiership club Blackburn Rovers.
The club, owned by India's Venkateshwara Hatcheries Group (Venky's), will tour India this month in a first for a Premiership club.
And scouts from the club will be on the lookout for talented youngsters who will be given two-week training slots at the clubs academy.
Balaji Rao, Director at Venky's and co-owner of Rovers, revealed the tour will form part of a bigger project which will see the company create exciting opportunities for young footballers in India.
"The Company is committed to elevating footballing standards in India," he revealed. "This event is an attempt to develop football at grassroot levels and create opportunities for young Indian footballers. We firmly believe that given the right training and opportunity, it is a matter of time before the next Rover's star will come from India.
"Exposing youngsters to the first team of Blackburn Rovers Football Club is merely a first step in this direction."
First team players, including the likes of Chris Samba and Paul Robinson, will take part in the finals of a four-city mini tournament for under-16 boys during their trip to India.
Two talented youngsters will be chosen by Rovers' scouts and whisked to the clubs Academy in Brockhall, Lancashire for a once in a lifetime opportunity.
"Youth following works both ways," added Mr. Rao.
"One way of developing footballing standards is by gathering mass following for Blackburn Rovers in India. Following leads to aspirations and elevation of standards, and we want to make Rovers popular in India. It is our appeal to the Indian youth to come forward and reach out to Blackburn Rovers team and aspire to play alongside them very soon."