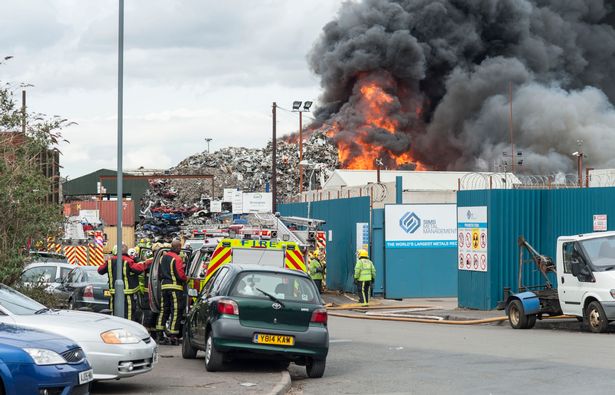 After further investigations, the Saltley blaze that occurred on Tuesday afternoon, at the ERM site, is said to have been started accidently by a stray spark.
More than 17 fire-engines and over 100 fire-fighters were present at the scene to tackle the uncontrollable blaze, which saw 800 tonnes of scrap metal and rubber set alight.
Clouds of grey smoke could be seen from miles and Saltley locals were urged to keep their windows and doors shut to reduce the inhalation of fumes and toxins from the smoke.
Power supplies were temporarily cut off which left 536 homes in Yardley, Small Heath, Sparkbrook and Spark Hill without power overnight and surrounding routes were also closed for several hours after the fire.
In a Twitter prompt from West Midlands Fire Service investigators warned: "Saltley fire caused accidentally, as result of a spark from either a vehicle battery or metal, igniting combustible materials in the pile."
The West Midlands fire service who were called just before 2pm, employed the use of two aerial platforms, a high-volume waster pumping unit and a drone to tackle the raging fire.