 Actor gears up for big screen release this July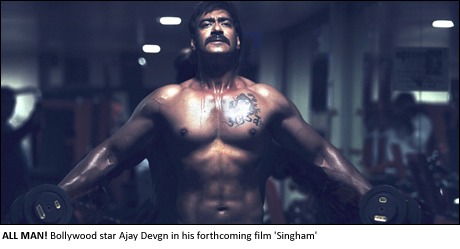 BOLLYWOOD superstar Ajay Devgn's beefy look for Reliance Pictures' 'Singham' seems to be the talk of the town lately.
In the much anticipated action flick, Ajay plays a tough cop from a village on the Maharashtra-Goa border who will be seen doing a lot of hand to hand combat scenes, something one rarely gets to see in movies in this day and age of high gadgetry.
Director Rohit Shetty therefore did not just want Ajay to develop a six pack which is easily achievable with injections and steroids; but to get a more realistic, brawny physique that would ooze raw manliness.
Ajay's trainer Prashant Saawant had a major role to play in ensuring this.
He trained with the actor for three months; helping him losing weight and making him more lean and muscular. He got him to do a rigorous combination of weights and circuit super sets that incorporated all techniques including push-ups and pull-ups. Prashant also oversaw Ajay's diet and made sure he maintained a high-protein low-carb diet to get that desired look.
Luckily, it didn't seem like a tough task, given Ajay's penchant for fitness and the fact that he already had a great physique. Fans of the actor can look forward to seeing him in a completely raw and desi action hero avatar!
Paying homage to the age-old tradition of the Indian action film, famed for gravity defying stunt sequences and a heavy-handed dose of 'dishoom', Reliance Pictures presents the hottest fight film of the summer, as 'Singham' triple-somersaults onto cinema screens on 22nd July 2011.
Coming Soon: Ajay Devgn talks 'Singham' with The Asian Today!