 Panjabi MC gives Cher Lloyd Desi sound in 'Swagger Jagger' remix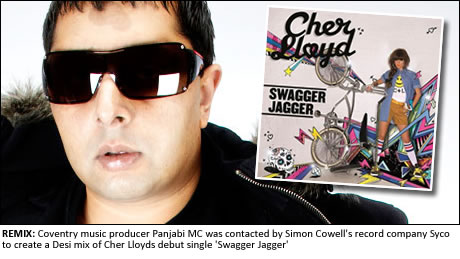 A COVENTRY music producer is proving he has the X-Factor after he was picked by Simon Cowell's record company to put an Asian spin on Cher Lloyd's debut single.
Panjabi MC was contacted by the big-wigs at Cowell's record company Syco to remix 'Swagger Jagger' – the debut single from former X-Factor hopeful Cher Lloyd.
 "I thought she was really good on X Factor so I thought it might be fun to do it," Panjabi MC told The Asian Today. "It is a catchy track with a strong pop baseline so I thought I'd stick with that and used 'Giddha type Panjabi rhythm'."
The Coventry music producer can boast of his own high flying pop career which saw him reach Number 5 of the UK charts in 2002 with the Knight Rider themed tune 'Mundian To Bach Ke'. A year later a version of the song featured none other than American rap superstar Jay-Z called 'Beware of the Boys' – and it was a track which the Hip-Hop legend featured in his Glastonbury set in 2008.
Today though Panjabi MC is riding high in the Asian charts with his latest single 'Moorni' which has occupied the Top 10 of the official Asian Download Chart for an incredible 30 weeks. And he's hinting music fans could be in for a treat as he works on a remix for the song. "I have been in contact with a few big names in regards to a "Moorni" Remix, due to the tracks big success. Watch this space!"
'Swagger Jagger' will be released on July 31 2011