 'I Can Be She' campaign looking for 'stories of spirited individuals'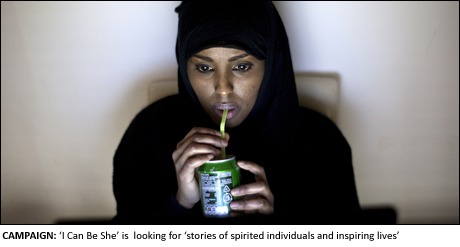 MUSLIM women across Britain are being urged to share their stories for a new campaign.
Organisers of the 'I Can Be She' campaign are looking for stories of spirited individuals and inspiring lives.
'I Can Be She' will run an exhibition series to captures the spirit of everyday activists, visionaries and pioneers – their passions, their experiences, and the paths which led them to dedicate their lives to their causes – with the aim of incorporating a shared dedication to women's rights, empowerment and equality.
Muna Hassan, an activist and campaigner, has already been photographed and recorded talking about her campaign to raise awareness around drug addiction within the Somali community.
Photographs were taken by Liz Hingley, who was featured in the Guardian for her critically acclaimed exhibition '"Under Gods": Stories from Soho Road'.
A spokesperson for 'I Can Be She' said: "Our aim is to explore techniques that portray people in a free and powerful way, as a celebration of their identity.
"Maslaha's "I Can Be She" project – www.icanbeshe.org explores the role Muslim women have played through history in parallel with the powerful achievement of Muslim female role models today."
In March 2012, Maslaha will organise a major exhibition to bring together the work of the established artists from the exhibition series with the work produced by young women in art and media workshops this Summer.