 'Turbanology: Sikhs Unwrapped' aims to challenge public perception of the turban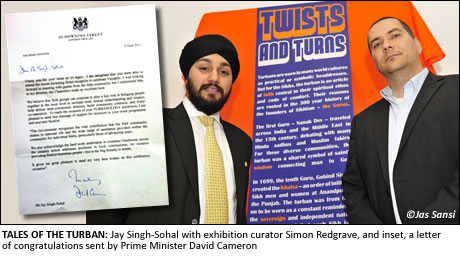 PRIME Minister David Cameron has sent a message of support to organisers of a Birmingham Turban exhibition.
The 'Turbanology: Sikhs Unwrapped' exhibition launched in the city earlier this month by Jay Singh-Sohal.
It aims to challenge public perception of the turban and encourages visitors to learn about its religious and political relevance.
Prime Minister Cameron sent Mr Singh a letter praising his efforts saying: "The Government recognises the vital contribution that the Sikh community makes to national life and the wide range of assistance provided within the community for individual Sikhs, particularly those of advancing years.
"To mark the occasion of your Turbanology exhibition I am pleased to send this message of support."
The exhibition, currently being held at the Nishkam Civic Centre on Soho Road, follows the successful independent film 'Turbanology: After 7/7', which Singh-Sohal used to explore the social and political significance of the turban following the attacks in New York and London.
"The team had set out to create a project that would provide a unique insight into what Sikhs consider their crown," organiser Jay Singh-Sohal said.
"The project offers visitors an exciting and interactive opportunity to learn about this key Sikh symbol. By engaging diverse audiences in the art of the turban, we demystify what has mistakenly become synonymous with terrorism and fear."
The Arts Council England supported exhibition will be hosted at selected venues from June to October ahead of a national tour in 2012.
Related Articles