 Administrators appointed in bid to save 264 jobs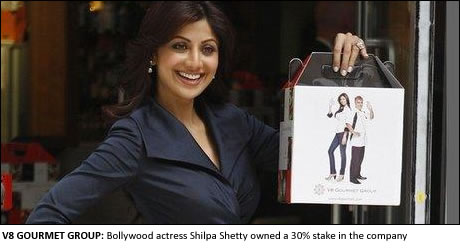 A RESTAURANT chain part owned by Bollywood actress Shilpa Shetty has gone bust.
The V8 Gourmet Group has been taken over by appointed administrators from London-based Re10.
The Big Brother star owns a 30 per cent holding in the group which owns restaurant chains Bombay Bicycle Club, Tiffinbites, the restaurant and catering chain VAMA, as well as the airline catering arm Khana by VAMA and Silk Events. 
In all, V8 Gourmet Group has 264 employees, on over 17 restaurant and takeaway sites, serving contemporary Indian cuisine with a modern twist.
The company has had a chequered history and several brushes with administration. Originally the Gourmet Restaurant Group, which owned the troubled brands Tiffinbites, Bombay Bicycle Club and VAMA was saved by the investment vehicle V8 Gourmet. 
Shetty pumped £6 million into the group in 2009, before stepping down as a Director at the end of 2010.
With the Bollywood star on board Gourmet Creations and V8 Gourmet produced a range of Halal ready-meals and chutneys under the Shilpa Shetty brand which were sold via supermarkets including Tesco.
Joint Administrator, Nimish Patel of Re10 said work had begun to secure the jobs of the companies 264 employees.
"We are continuing to trade V8 Gourmet and the sites of the sub brands, until such time that we can see a way forward for all elements of the business," he said.
"At present no changes are to be made, and we are working hard to secure the jobs of all 264 employees. We are at an advanced stage of discussions with an interested party with regard to the business."