 Kaldeep Singh has links to Southall, Birmingham and Leicester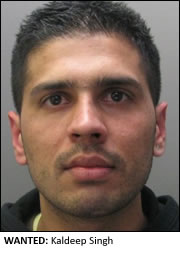 POLICE have a released an image of a man who is wanted for failing to return on bail for a sexual offence.
Kaldeep Singh, 32, formerly of Hadlow Road in Welling, Bexley, was arrested on suspicion of sexually assaulting a 17-year-old girl on a train between Charing Cross and Woolwich on 7 March this year.
Singh, who was arrested on 30 March, was released on police bail until 3 May but failed to return.
Now officers from British Transport Police are appealing to the public for information.
Investigators attended his former home address in Welling on several occasions but to no avail.
Detectives believe Mr Singh may have links to the Southall area, as he told officers that on the night of his arrest he was travelling home from there, having been to a temple.
He is also believed to have links to Birmingham and Leicester.
Anyone with information is urged to contact British Transport Police on 0800 40 50 40 quoting reference B6/LSA of 15/06/2011. Or call the independent charity Crimestoppers on 0800 555 111.