 Bollywood star to play triple role in 'Krrish 3'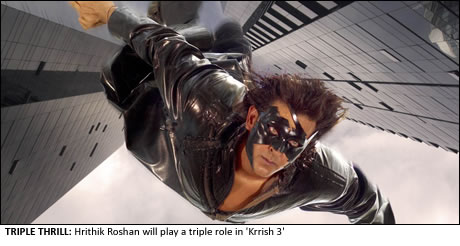 BOLLYWOOD icon Hrithik Roshan is looking to boost his on-screen presence – by playing a triple role in the eagerly awaited 'Krrish 3'!
The actor has been locked in talks with producer-dad Rakesh about the next instalment of the superhero science fiction film.
The film is expected to be a story of three generations where Hrithik will play the role of father, son and grandson. 
But if the dedicated actor had his way, he would have played four roles in the film, including the villain – an idea not entirely sold on dad Rakesh.
"Hrithik is already playing three roles in the film and that is more than enough for him," Rakesh was quoted as saying. 
"It was not possible for Hrithik to play the enemy as well."
To see Hrithik's avatar of characters in action, make sure to look out for the highly anticipated 'Krrish 3', due for release in 2012.