 Sarika Pancholi scoops national award for colourful collection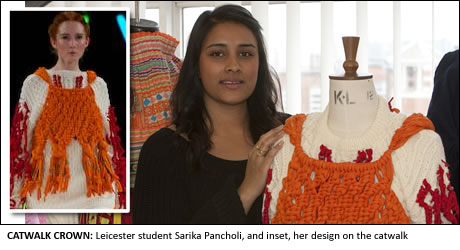 A LEICESTER student has scooped a prestigious fashion award – for a colourful catwalk collection of knitwear made from shoelaces!
Sarika Pancholi, a final-year fashion design student at De Montfort University, was awarded the David Band Textiles Award at London's Graduate Fashion Week.
Her designs wowed fashion big wigs so much that not only did high street giant River Island offer the talented 22-year-old an internship as a knitwear assistant, but renowned fashion designer Zandra Rhodes described Sarika as 'one of the top five British designers to look out for this year'.
For her collection, Sarika took inspiration from her rich Indian culture and traditional British knitwear techniques, and also incorporated everyday items into the garments, such as shoelaces, straws, lolly-pop sticks and whistles.
Sarika, from Rushey Mead, Leicester, said: "I am still feeling very overwhelmed by the whole experience of Graduate Fashion Week – it has been an amazing few days.
"It's a privilege to win an award in honour of the late David Band, who has been an inspiration to so many artists and designers. It's a real reward for all the long hours spent on finalising my portfolio and catwalk collection."
Della Swain, fashion design course leader at DMU, paid tribute to Leicester's new fashion star.
"We are very proud of Sarika and the uniqueness of her work, which meant she stood out as the best contender worthy of winning the David Band Textiles Award," she said. "It's a real testament to the quality of the innovative collections we had on the catwalk this year."
Sarika's collection also recently won her The Worshipful Company of Framework Knitters Bursary of £2000. The bursary meant Sarika was mentored and guided by someone from the company throughout her final major project.
But she wasn't the only DMU fashion student to enjoy success at Graduate Fashion Week.
Ume Sacranie's rock-and-roll inspired collection incorporating hundreds of birds' feathers was among the final 10 shortlisted for the event's top accolade – the George Gold Award. Shavani Chavda's eye-catching tropical prints were a close runner-up for the Zandra Rhodes Award, and Ceri Jones was a finalist for the First Word Journalism Award.